Elevate Your Bathroom With Customized Cabinets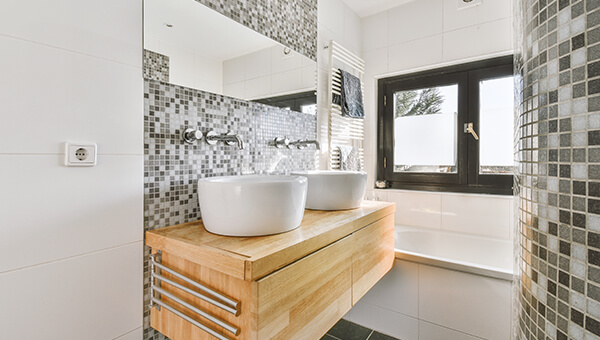 Redefining Bathroom Remodeling with Exquisite Custom Cabinetry
When it comes to transforming your bathroom into a luxurious retreat, the key lies in the details. Customized cabinets play a vital role in elevating the aesthetic appeal and functionality of your bathroom space.
Creative Edge Cabinets Woodworking specializes in creating bespoke cabinetry solutions that breathe life into your bathroom remodel. This article explores the transformative power of customized cabinets, highlighting how Creative Edge Cabinets Woodworking can turn your vision into reality, leaving a lasting impression on your bathroom's design.
Unleashing Creativity with Customized Cabinets
Customized cabinets are the epitome of personalization and craftsmanship. With Creative Edge Cabinets Woodworking, you can unleash your creativity and design a bathroom that truly reflects your style and preferences. Whether you desire sleek and modern cabinets or prefer a timeless and traditional look, their team of skilled artisans and designers can bring your dream cabinets to life. Each cabinet is meticulously crafted, taking into consideration your specific measurements, storage needs, and desired finishes.
Enhanced Functionality and Storage Solutions
A bathroom remodel is incomplete without optimizing storage solutions. Customized cabinets from Creative Edge Cabinets Woodworking offer intelligent storage solutions tailored to your needs. From spacious drawers and adjustable shelves to hidden compartments and specialized organizers, these cabinets provide ample space for all your toiletries, towels, and accessories. With smart storage options, your bathroom remains clutter-free, allowing you to maintain a clean and organized space.
Seamless Integration and Aesthetic Appeal
One of the significant advantages of customized cabinets is their ability to seamlessly integrate with your bathroom's overall design. Creative Edge Cabinets Woodworking understands the importance of cohesiveness and offers a wide range of customization options. You can select from various wood species, finishes, hardware, and decorative elements to ensure that your cabinets complement the existing aesthetic of your bathroom. The result is a harmonious blend of functionality and visual appeal that enhances the overall ambiance of your space.
Unparalleled Craftsmanship and Quality
Creative Edge Cabinets Woodworking takes pride in their commitment to exceptional craftsmanship and superior quality. Each cabinet is meticulously constructed using premium materials and techniques, ensuring durability and longevity. Their team of experienced craftsmen employs a combination of traditional woodworking methods and modern technologies to create cabinets that stand the test of time. By prioritizing quality, Creative Edge Cabinets Woodworking delivers cabinets that not only enhance your bathroom's appearance but also withstand the rigors of daily use.
When it comes to bathroom remodeling, customized cabinets from Creative Edge Cabinets Woodworking offer a transformative solution that combines functionality, aesthetics, and superior craftsmanship. By collaborating with their team of experts, you can create a bathroom space that reflects your unique style while providing efficient storage solutions. Elevate your bathroom to new heights of elegance and functionality with Creative Edge Cabinets Woodworking and experience the transformative power of customized cabinetry.
Elevate your bathroom with the exquisite craftsmanship of Creative Edge Cabinets Woodworking and redefine the art of bathroom remodeling.
Unleashing Creativity with Creative Edge Cabinets Woodworking