Elevating Your Home with a Remarkable Bathroom Remodel by Creative Edge Cabinets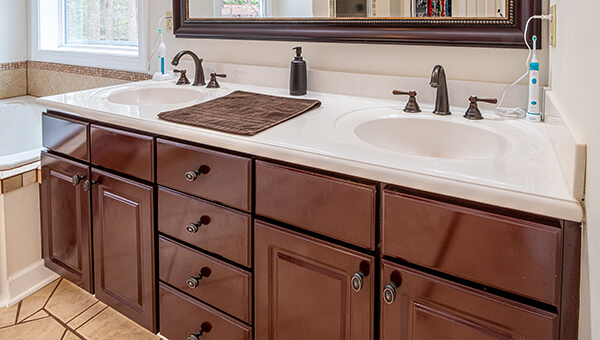 In the realm of home renovations, few projects hold as much potential to enhance both functionality and aesthetics as a bathroom remodel. A well-executed bathroom remodel can transform a mundane space into a sanctuary of luxury and comfort.
Creative Edge Cabinets, a name synonymous with innovation, brings its expertise to the forefront, redefining the art of bathroom transformation.
A Bathroom's Evolution
Beyond its utilitarian purpose, a bathroom is a canvas for personal expression and rejuvenation. A bathroom remodel goes beyond surface changes; it's about reimagining the very essence of the space. Creative Edge Cabinets recognizes the significance of this transformational journey and approaches each project with a blend of creativity and technical precision.
Crafting Artistry with Creative Edge Cabinets
The cornerstone of any exceptional bathroom remodel is the seamless fusion of form and function. Creative Edge Cabinets excels in this delicate balance, infusing each project with artistry and practicality. From concept to execution, the company's team of designers, craftsmen, and technicians collaborate to bring visions to life.
Tailored Transformations
Creative Edge Cabinets understands that every homeowner's vision for their bathroom is unique. Their approach to a bathroom remodel is rooted in personalization, offering a range of design options that cater to individual preferences. Whether it's a sleek and modern design or a classic and timeless look, the company's expertise ensures that every aspect is executed to perfection.
Reviving Spaces with Creative Edge Cabinets
The impact of a bathroom remodel extends beyond the bathroom itself. It rejuvenates the entire home, creating a sense of renewal that resonates throughout. Creative Edge Cabinets' commitment to impeccable craftsmanship guarantees that the remodeled bathroom is more than just an upgrade; it's a testament to the art of transformation.
Collaboration for Innovation
Innovation thrives on collaboration, and Creative Edge Cabinets understands the power of partnerships. The company invites homeowners to actively participate in the bathroom remodel journey. From selecting materials and fixtures to envisioning layouts, the process becomes a collaborative effort, resulting in a bathroom that aligns seamlessly with the homeowner's lifestyle.
Reimagining Bathrooms with Creative Edge Cabinets
In conclusion, a bathroom remodel is an opportunity to reshape a space and create an oasis of relaxation and beauty. Creative Edge Cabinets, with its unwavering commitment to innovation and design, takes this opportunity to new heights. Each bathroom remodel is a testament to the company's dedication to turning visions into reality.
Choose Creative Edge Cabinets: Where Bathroom Remodels Transform Spaces Beyond Imagination.