How to Maintain Your Kitchen Cabinets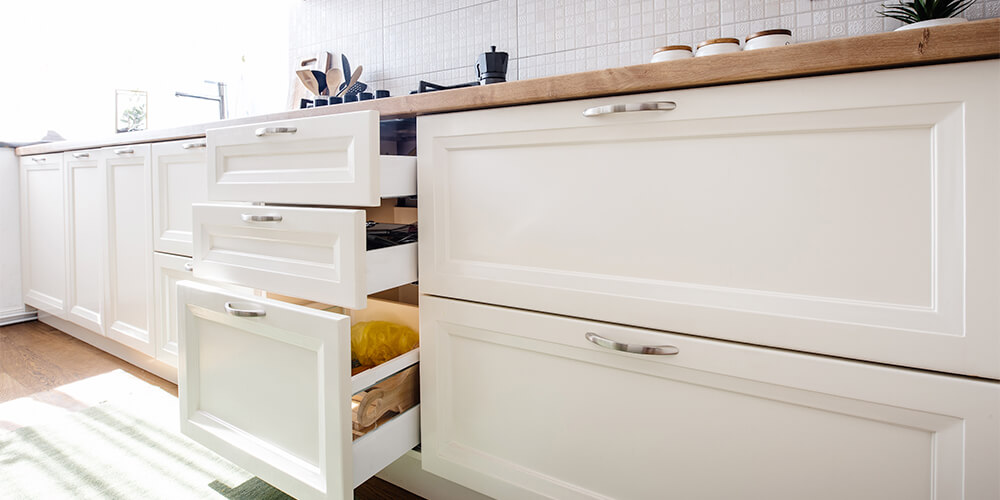 Do you want to keep your kitchen cabinets in top condition for many years to come? If so, you'll need to provide them with regular maintenance.
For most types of cabinets, this maintenance begins with a monthly wipe down. You should use a lint-free chamois cloth for best results.
Though this regular cleaning should be thorough, it's generally best to avoid using products like:
Bleach
Solvent
Ammonia
Strong soap, and
Powdered cleaners
These products can be quite abrasive and may cause damage to your kitchen cabinets.
Of course, it's also important to keep your fittings free from moisture. If you spill water in them, it is best to clean the mess up as quickly as possible. Should you fail to do so, your cabinets might become stained or even warped.
Similarly, you should never hang wet towels or dishcloths over your cabinet doors. If you want to keep your fitting looking their best, use a hanging rack instead.
Finally, if you notice any nicks or scratches on your kitchen cabinets, take steps to address them as soon as you can. A minor issue can turn into a big one in a hurry!
Your Source for Durable Kitchen Cabinets
Are you in the market for durable kitchen cabinets? If so, you have come to the right place! The team at Creative Edge Cabinets and Woodworking has helping Ohioans transform their kitchen spaces for years, and we would love to do the same for you.
Whether you want rustic oak cabinets or something a bit more modern, we've got you covered!
To schedule an estimate or learn more about our woodworking services, just give us a quick call at (419) 453-3416 or fill in our online contact form. Our friendly team will be happy to assist you!