The Impact of Quality Cabinetry on Your Bathroom Remodel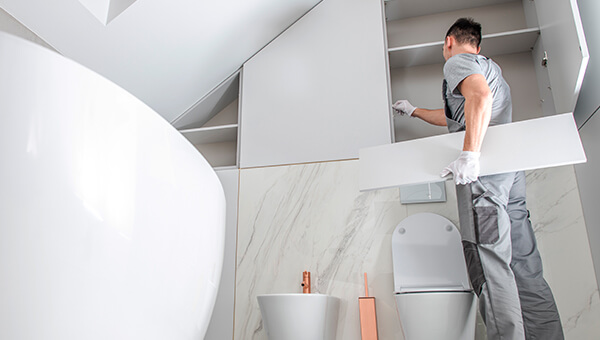 When it comes to a bathroom remodel, one of the most important decisions you'll have to make is picking the right cabinetry. Though it can be pretty tempting to choose cheap, mass-produced cabinets to save a little money, high-quality cabinetry is almost always a much better option.
Let's take a look at the impact high-quality cabinetry can have on your bathroom remodel:
Functionality and Storage
First and foremost, quality cabinetry adds functionality and storage to your bathroom. Whether you're looking to store toiletries, towels, or cleaning supplies, custom cabinetry can be designed to fit your specific needs. With a range of options, including drawers, shelves, and cabinets, you can create a layout that works for you and your family.
Additionally, high-quality cabinetry is built to last, so you can expect it to hold up over time. This means you won't have to worry about it breaking or falling apart, which can be frustrating and expensive to fix.
Aesthetics
In addition to functionality and storage, quality cabinetry can also have a significant impact on the overall aesthetic of your bathroom. With a wide range of materials, finishes, and hardware options, you can create a custom look that complements your style and enhances the beauty of the room.
For example, if you're going for a rustic look, you might choose cabinetry made from reclaimed wood with matte black hardware. Or, if you prefer a modern, minimalist style, you might opt for sleek, glossy cabinets with simple, brushed metal handles. Whatever your preference, custom, high-quality cabinetry can be designed to fit your specific vision.
Creative Edge Cabinets & Woodworking: The Bathroom Remodel Experts
At Creative Edge Cabinets & Woodworking, we have years of experience helping people transform their bathrooms into functional and beautiful spaces. If you're planning a bathroom remodel and want to work with a trusted company, send us a message or give us a call at (419) 453-3416 today to see how we can help you achieve your vision.