A Bathroom Remodel is one of the Best Renovation Projects for your Home
Kitchens and bathrooms are the two best parts of your homes to renovate as they add a lot of value to your home and also bring homeowners a lot of joy. Kitchens and bathrooms are used on a daily basis, unlike some rooms in your home, so you spend a lot of your time there. Make your bathroom a dreamy, spa-like experience. The more inviting your bathroom is the more you will look forward to that morning shower to kick off your day or that evening soak in the tub to soak away the stress. The bathroom is really the bookend of your day!
The nice thing about bathroom remodels is you will probably get every penny and more back when you sell your home. They hold their value well and can help you sell your home for a higher price.
How to Decide on the Right Bathroom Remodel for your Home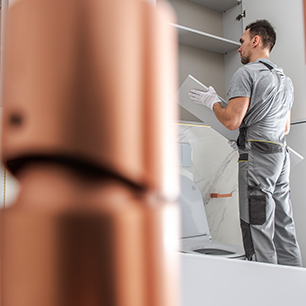 Fortunately, you will have a lot of options to choose from when planning your bathroom remodel. And, we mean a lot of options! Do you want a soaker tub? A rain shower? Granite countertops or Formica? Don't get overwhelmed with the number of options you have, our team can help you decide.
Don't delay – contact us today and start the process of creating your dream bathroom remodel! In some cases, the decisions might be easier as you might be staying within a certain price range. We can help break down exactly what you can get for your budget, and exactly what you can get for the size bathroom you are renovating. We will help every step of the way from installing showers and tubs to picking out what type of knobs you want on the bathroom vanity. Call us today or contact us online, and let us help you get started on your dream bathroom remodel!