Kitchen Cabinets - The Solution to Your Storage Woes
Do you often struggle to find a place to put your pots and pans when you finish cooking for your family? Do you keep your plates, bowls, or cups in a plastic storage bin? Then it may be time to boost the number of kitchen cabinets in your home. But what kind of cabinetry is right for you?
Kitchen Cabinets - Finding the Perfect Option for You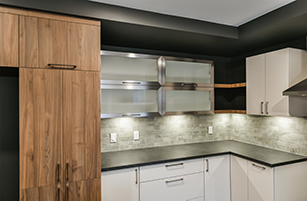 When searching for the ideal kitchen cabinets for your home, one of the first factors to consider is the material. If you are extending your existing cooking area, you might want to opt for an option that complements the cabinetry you already have. You don't want it to look like you have two separate kitchen areas.
Of course, since you are purchasing your new cabinets to improve your storage space, you may also want to spend some time investigating the functionality of each of your options. Do you need cabinetry with built-in bottle holders or shelf extenders? Now is the time to check to see if that is a possibility.
Finally, when selecting new kitchen cabinets, it is vital that you consider how they will fit into your space. Do you need several corner units? Will pre-built cabinets fit neatly into your home, or will you need to have them custom made? The answers to these questions can go a long way toward helping you choose the perfect cabinets.
At Creative Edge Cabinets & Woodworking, we have been helping clients design, manufacture, and install high-quality kitchen cabinets for years. If you need some help selecting the perfect storage-boosting cabinetry for your home, please do not hesitate to give us a call at (419) 453-3416 or send us a brief message online. We will be more than happy to discuss your needs and point you in the right direction.